Our Story
Hola Amigos
Where to begin?
Way back in the mid 80's, a couple of brothers decided that a guy's trip to fish for Big Game fish was in order. But where? We had already fished for Marlin and Tuna in Kona, but had heard of great fishing down in Cabo San Lucas. So we grabbed one of our fishing buddies and our Brother in law who had been there a time or two and off we went. Just like the fish, one trip and we were hooked on Cabo. Cabo has changed since that first trip, but not our passion for getting there every chance that we get. And like our passion for Cabo, is our passion for putting out some exceptionally great products which we hope you'll enjoy as much as we do.
Mucho Gracias,
Jack and Kevin
You know, the little green crazy guys!
And they tell you, " DON'T SWIM ON THE PACIFIC SIDE"
It was September something in the mid 90's , and again my brother and I along with two of our friends, find ourselves on day one down at the pool, soaking up Cabo Sun and enjoying cold frosty Bev's. When I said, guy's lets go for a swim in the Ocean. Upon that, the four of us got up from the pool area and trod across what seemed at the time like a mile of surface of the Sun hot sand. The waves were pounding up onto the beach pretty hard, but one by one we all got in. It seemed like it was only a couple of minutes before it was only me and my brother still in the water. It felt good, a much cooler temperature than the pool. I looked over at my brother and said. Come on out a little bit further where I'm at. I saw him start heading my way, so I just laid back floating and staring up at the Blue Sky. In what seemed like a blink of an eye, I looked up to see where my brother was, only to realize that he and I were in a Rip Tide that had pulled us a quarter to a half a mile off the Beach.
To Be Continued.......
Product of the Month

Cabo Loco Fresh Tortillas
Clean all Natural Cabo Loco Tortillas
Image Gallery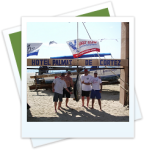 Check out our incredible Cabo Loco images!

Locate A Store Near You
Use our store locator
to quickly find stores
that carry our
Cabo Loco
products
Copyright 2022 - Cabo Loco Foods. All rights reserved.
Programming and website development by
Notable Web, Inc.